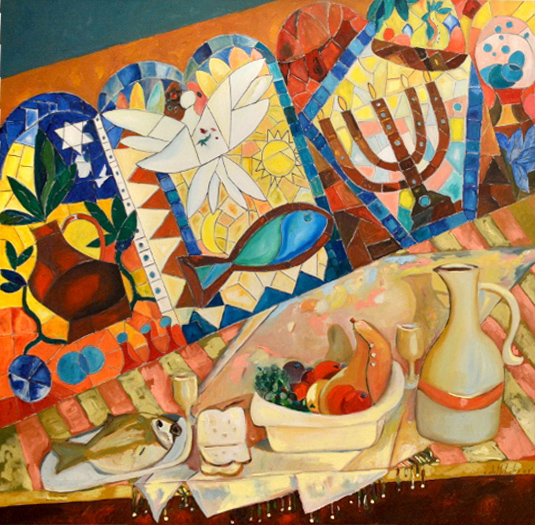 Orange artist C. Delle Bates fills the sweeping space with panels of expressive oil paintings on canvas and plywood — a material with which the artist has a special connection. Before his bohemian existence in Texas, Bates worked in the timber industry for 18 years, during which he found success patenting an innovative plywood adhesive.
After selling his company in 1995, the artist was able to move his family to Orange, eventually buying and renovating the Reliable Cleaners in Front Avenue into his home and art studio. From then, he has been able to throw himself into his painting practice, experimenting with genres and styles with a Southeast Texas twist.
Bates' latest exhibition, "Palette de Couleurs," will be on display at the Historic City Hall Arts and Cultural Center in Lake Charles through June 25.
A native of Louisiana, Bates' work has its roots steeped in the early 20th-century painting tradition of the Fauves and Cubists with his use of bright colors and rounded forms. This retrospective features works painted as early as 1994— in fact, his oeuvre is so prolific, he often cannot keep track of which year he painted a work unless he explicitly painted the date on the canvas, he said.
The Texas painter's figuration is not focused on rendering a subject true to life; instead his paintings demand the spectator take them in with all the varying color palettes and simplification of forms. Regarding portraiture, the features of his figures are flattened and elongated, not unlike Modigliani's painted women. However, rather than blank expressions, Bates' painted women look serene and pensive.
Alongside the portraits are works featuring the images of saints, recognized by the golden Byzantine halos above their heads and the geometric crisscross of lines behind the figures, harkening back to the silhouettes of stained glass found in Catholic cathedrals. "Our Lady of the Neches" features such a stoic saint named for Southeast Texas' own Neches River, with Bates rendering her features flat— the depth comes from the colors he uses on her face and hair.
Other religious influences present in his paintings range from doves, symbolic of the Holy Spirit, and Jewish subjects — spiritual aspects that were present in his own upbringing. Angels are painted with as much as color and texture as his portraits, but remain faceless as if to maintain their otherworldliness.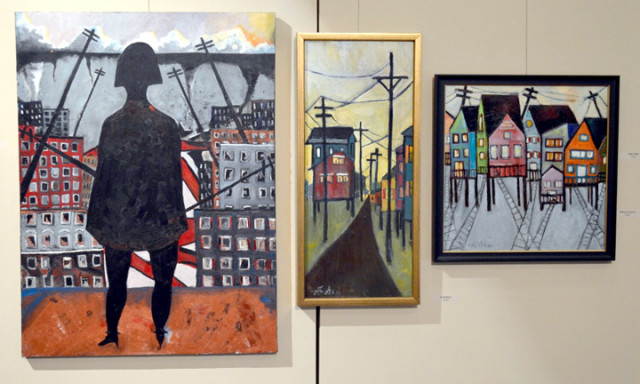 Like the painters he emulates from modern France, Bates oeuvre would not be complete without a series representing his pilgrimage to Provence, resulting in works that play with Van Gogh's color palettes when painting wheat and sunflowers in Auvers sur Oise, and the greens and blues found in Cezanne's landscapes of Aix-en-Provence.
His floral works feature still lifes and scenes capturing unexpected angles, resulting in compositions that look like something that would be seen from the Hubble telescope. "Dancing in the Moonlight" is one such floral composition that uses unexpected blues and yellows to capture the moment seeds are released from their pod in a cosmic array of colors and textures.
Regional events like Hurricane Rita impacted Bates' subject matter. One wall of the show features three paintings that were executed after the hurricane had devastated the area. A particularly poignant work from this series, "Rita," features the backside of a person looking on at the oncoming storm on the horizon, with ominous-looking gray funnels and falling power lines. Alongside "Rita," are two smaller beach paintings reflecting similar views of destruction after natural disasters, with twisted power lines and homes damaged by heavy winds and flooding.
It's worth the short trip to Lake Charles to check out a local artist's work featured in its own retrospective in a beautiful and open space. The green drive down IH-10 east is a monochromatic preview of the burst of colors that await visitors at the center. Bates' work transitions spectators from spring into summer and encourages them to look at the brighter side of life.
The Historic City Hall Arts and Cultural Center is located at 1001 Ryan St. in Lake Charles, La.
For more, visit www.cityoflakecharles.com or www.cdellebates.com.
Story by Caitlin Duerler
ISSUE Staff Writer