Thoughtcrime group encouraged writers, fostered friendships
Andy Coughlan
ISSUE Editor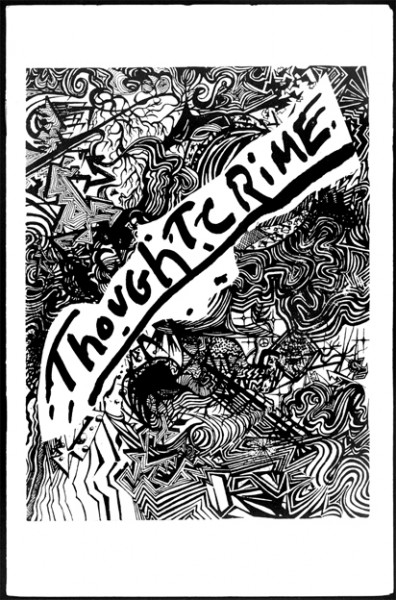 Before Thoughtcrime was a page in the ISSUE, it was a completely separate publication. The first issue was printed in 1987.
It was published through The Art Studio.
Cathy Atkinson came on board with the second wave of publications, in September, 1988. She was working at what was then First Security Bank in downtown Beaumont.
"A friend of mine from the bank had visited the original Studio one lunch time and said, 'You've got to go, Cathy, and see," Atkinson said. "It must have been pretty original — I think Greg Busceme's totem show was up at the time. So I either made my way down, or called, or did something — somehow I got in touch with Kerry Fare. Kerry was the editor. I submitted some poems and they accepted them, and that's how I found out about this. I didn't know it was really the very beginning of it.
In the early days of Thoughtcrime, submissions were accepted or rejected, according to a panel's choices.
Atkinson said that the poets had a regular group that met to discuss their work.
"It was a lot of fun," she said. "The magic of the poetry group was that we got to know each other through our poetry. We didn't just sit around a table and say, 'I'm Cathy Atkinson and I live…,' or 'I just moved here…,' or 'I work at the bank…,' or whatever. We got together through our poetry.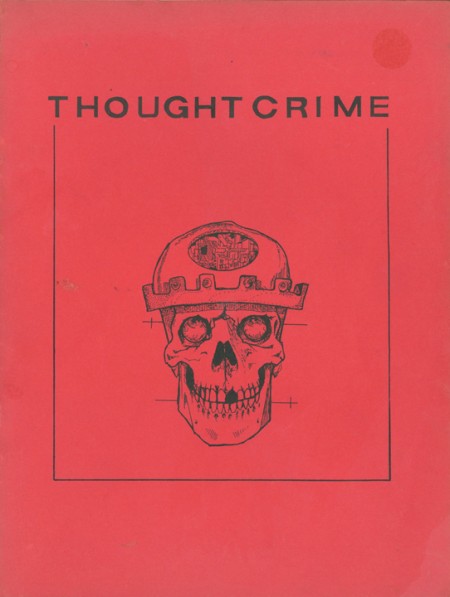 "There was one guy who wrote beautiful poetry and he worked at an auto parts store in Vidor, of all things, which would surprise me."
Atkinson became a frequent lunchtime visitor to The Studio's building on Milam.
Growing up, Atkinson lived all around Southeast Texas — her father was a minister — before moving to England with her husband.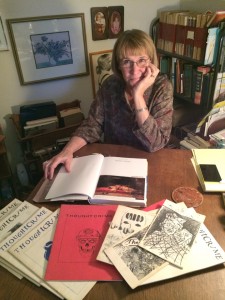 "Thoughtcrime" was really The Studio's first publication. Fare and Parigi are listed as editors, and Atkinson is listed in the September 1988 edition as editor's assistant. Printing was much more of an ordeal back then, without access to today's computers. They were typed up and glued to a template, before being sent to the printer.
"I think this one got a grant form SETAC," Atkinson said. "I don't know if it was renewed every year or not, but I remember my boss, who was on the SEATC board, coming up the stairs and looking at me real furtive."
The poetry group met once a month around the kitchen table at The Studio. Atkinson said the group had around six regulars, including Fare, Parigi, George Wentz, Steve Kirk, James Spreckles and herself. Different artists would supply images for the publication.
"It was along the lines of a workshop," Atkinson said. "There was feedback, and we would read our piece and people would put their two cents worth in. It might help to hone the piece or change, or get you somewhere you intended to go but didn't know how."
That was the benefit of a smaller group, she said.
"And publication would come out of that — we would call for submissions so it wasn't just the group publishing," she said.
Atkinson laughed as she said that her poetry grew out of angst over her ex-husband.
"When I want to say something I have to write it — and I had a lot to say," she said. "It came from the gut, and I sometimes feel pretty false when I'm called a poet — I don't know. I'm not classically trained, it wasn't my education, it just started. I've always liked writing."
Poetry can be the most personally revealing of the arts.
"We used to have poetry readings, say one a quarter, and it was well attended," she said. "It was petrifying to read, but the response was so good that it encouraged you to go on.
"What I liked the best was when someone would come up to me after the reading and tell me what it meant to them. They might be off track (as to the original intent) but it meant enough to them to say something about it."
The group itself was relatively short lived, and after a couple of years the group members went their separate ways — "to experience the angst," Atkinson said.
"I guess each of us had other endeavors to pursue," she said.
Atkinson pauses for a moment as she reflects that Fare, Wentz and Spreckles are all dead now. She has fond memories of the group dynamic.
"For me, it made me bloom," she said. "The camaraderie, being part of a producing group. We got to show our talents off and get ourselves known. And we made some pretty lasting relationships."
Part of her wishes it had continued, but it wasn't time for her to go on.
"There were other things in my life that I had to take care of at the time," she said. "I had two small children.
"I think that's part of The Studio that needs nurturing."
Atkinson said she believes there is an audience for poetry. When the Toughtcrime group folded, she hosted several readings at the Walk On Café in downtown Beaumont..
"On a Sunday night in December, we had a capacity house," she said. "From children to old ladies with furs and diamonds. They were quite successful. We had one that was to launch a book of Steve Kirk's poetry. We thought was that his family would come. All we did was post fliers around town and sent out a notice to the media. Word just got around, I guess. I find that exhilarating."
She hosted another when Frank Parigi earned his doctorate from the University of Arkansas.
"Frank is dynamic and one of the best writers I ever read," she said. "He was coming back through town on his way to California. I wanted to welcome back home a success. We did that at the Logon Café and it was big success, so much so that the Logon wanted me to do them monthly. But doing it monthly was too much of a circus for me."
Atkinson said she has attended the Poetry Renaissance group that takes place on the third Thursday of each month, hosted by Dorothy Sells Clover.
"She's really going after it, she's doing good," Atkinson said.
Atkinson said she hopes that poetry stays a part of the arts scene.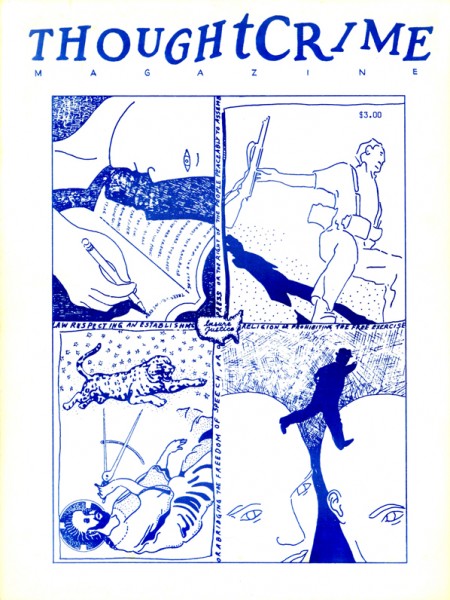 "I think that Beaumont has some extremely talented local (visual) artists, and we have very talented poets, and my aim, since the poetry group ended, is to promote them and give them a platform."
Ultimately, Atkinson said the original mission of Thoughtcrime, one that carries on in the ISSUE today, is to offer people a place to publish their work.
"This is all about finding your voice," she said.