'The Glamour and Romance of Oscar de la Renta' at the Museum of Fine Arts Houston
"What I try to do 

in my design is to make 

a woman dream."
— Oscar de la Renta
Every artist is Pygmalion at heart dreaming of Galatea, a living, breathing embodiment of his or her artistic vision. Painters and sculptors often incorporate elements of their ideal image in portraits of real people, as a part of their signature mark.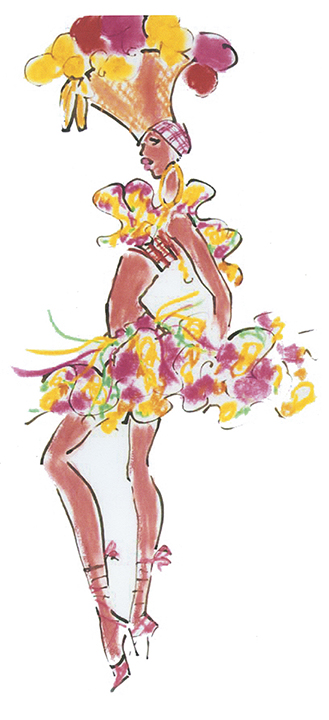 The identity of Oscar de la Renta's Galatea may be elusive, but she always wears elaborate attire. Looking at the display of ensembles created by the great couturier at the Museum of Fine Arts Houston, one immediately realizes that each of them epitomizes a female ideal that is often inspired by a particular culture.
The exhibition opens with a parade of proud Spanish doñas whose smouldering passions are discreetly yet unmistakably expressed in the gowns of flaming red and cosmic black that burst in cascading ruffles.
Walking into the next gallery we find ourselves surrounded by the world of Oriental opulence. The names of the collections — "The Road of Spices," as the designer himself called his new body of work in 1967, and "Oscar's Arabian Nights," coined by Women's Wear Daily in regards to his collection of 1968 (both received the prestigious Coty Award) — speak of de la Renta's lifelong fascination with Eastern cultures. There are demure daughters of Central Asia enveloped from neck to ankles in silk kaftans adorned with intricate embroidery and bead trim. Their modesty is contrasted by an unabashed display of sensuality in the resplendent attire inspired by the famous character of Scheherazade — a glittering top of metallic braid, rhinestones and pearl beads.
A Russian bride emanates a cool light, like a freshwater pearl, in her gold gossamer veil draped over the kokoshnik-style headdress and a sumptuously embroidered silk taffeta gown evoking both the glamour of the Russian imperial court and the glitter of silver accolades on Orthodox icons. Echoes of Russia are evident throughout the exhibition in luxurious furs, ornate textiles, jeweled appliqué and embroidered trims.
Another lifelong passion that inspired de la Renta in his work was nature. Born in the Dominican Republic, the future designer grew up surrounded by the luscious greenery of the tropical paradise. Since his young years he took delight in cultivating his garden. "A garden is probably the most spiritual and pure of joys," the designer used to say. "It's a communion with nature and beauty in the most simple and fundamental form." In one of the galleries, a continuous stream of images takes visitors on a virtual tour of de la Renta's garden in Connecticut known for its perfect union of formal landscaping and natural vistas.
Nature forms and motifs proliferate in de la Renta's work. Many dresses feature floral and foliate patterns that evoke the blissful feeling one experiences in a garden on a bright summer morning. Nature influence reveals itself in free-flowing silhouettes that make one think of fairies and dryads. Other dresses have straight bodices and full skirts reminiscent of a flower in bloom.
From the intersection of de la Renta's love of nature with his interest in art history springs yet another source of inspiration — the 18th-century Rococo style. The dress worn by actress Kirsten Dunst as Queen Marie-Antoinette in Vogue Magazine (September 2006) is the epitome of the designer's romantic vision of that era known for its taste for muted colors and floral motifs.
A more intricate appropriation of the Rococo fashion is evidenced in the cocktail dress of silk chiné taffeta with pleated back panels. This is a modernized version of the 18th-century sack-back gown, also known as the robe à la française. Unlike the traditional sack-back gown in which the pleats fell loose from the shoulder to the floor with a slight train, de la Renta's dress features open shoulders with the back panels pleated at the level of the shoulder blades. One can imagine how the fabric floats away from the body giving the impression of lightness and informality.
During his career, which lasted for five decades, Oscar de la Renta achieved unprecedented success. The first designer from the Americas to head a French couture house, that of Pierre Balmain (1992-2002), he garnered universal acclaim for the clothing that featured impeccable techniques, sophisticated silhouettes and an exquisite color palette.
However, Oscar did not grow up wishing to be a designer. His first love was art. At the age of 18, he arrived in Madrid to study painting at the prestigious Real Academia de Bellas Artes de San Fernando. His introduction to the world of fashion happened when he started drawing clothes for newspapers and fashion houses in order to make extra money.
Fate would have it that one of his sketches attracted the attention of the wife of U.S. Ambassador in Spain, Mrs. Lodge, who commissioned the young man to design a gown for her daughter. When the photograph of the daughter wearing the dress appeared on the front page of Life magazine Oscar's career path became obvious. He left the San Fernando Academy to pursue an apprenticeship with Spain's most renowned couturier, Cristóbal Balenciaga. Then followed, in a quick succession, the work for Lanvin-Castillo in Paris, for Elizabeth Arden in New York and the partnership with ready-to-wear designer Jane Derby which eventually lead to the establishment of his own label, Oscar de la Renta.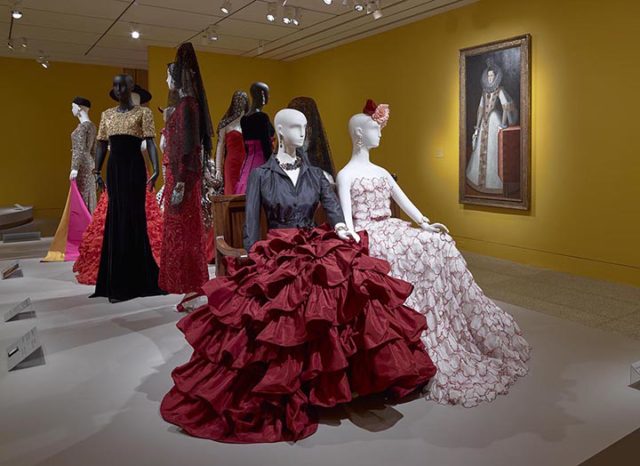 Throughout his career, de la Renta remained a hands-on, detail-oriented artist who was deeply involved in every step of design and production. He was the only New York designer to have his own on-site workrooms with a wide array of fabrics and a large team of craftspeople who worked directly under his supervision. This is how he described his working process: "Drawing is actually the way of starting a collection. I draw first and that is my way of creating. Once I start working on a collection, it takes me over three months of very intensive work. The beginning is always very difficult. Fabrics are very, very, very important for me, in fact, much more important than the drawings. Colors have a very, very special meaning, and when I see a bolt of fabric, right away it is the color and the form and the design that says something to me. It is the color that helps me create and gives shape to things."
The unsurpassed elegance and sophistication of de la Renta's ensembles that emphasize and enhance a woman's natural beauty made him one of the most sought-after couturiers among celebrities. One section of the exhibition showcases his creations worn by the world's most iconic women. Among them are Penelope Cruz, Karlie Kloss, Allison Sarofim and Taylor Swift, who dazzled the public at the Metropolitan Museum of Art's annual Costume Institute Gala in 2011. First Lady Laura Bush donned an extraordinary beaded and embroidered ensemble especially designed to shimmer in the evening light when she hosted a state dinner at the White House. On the day of her marriage to George Clooney, Amal Alamuddin looked stunning in her gown made of silk tulle and lace decorated with caviar beads and rhinestones; it was the final custom wedding dress that de la Renta created before his death.
Surrounded by the most beautful women all his life, did de la Renta find his ultimate muse and Galatea? Apparently, he did: it was his wife Annette for whom he created custom pieces that reflected her personal taste, including the dramatic silk taffeta evening coat (2012) featured at the exhibition.
In conclusion, a few words of praise must be said about the presentation of de la Renta's work at the Museum of Fine Arts Houston. The mannequins are grouped in such a manner that gives them character and an appearance of being engaged with each other. Another important element of the display is the inclusion of art works from the Museum's collection which provide a cultural context for each grouping. In the Spanish gallery, Margaret of Austria, Queen of Spain, haughtily watches her flamboyantly dressed present-day compatriots from the 17th-century portrait by Juan Pantoja de la Cruz. A pair of exquisite black lacquer Coromandel screens adorned with mother-of-pearl inlays provide a spectacular backdrop for the lavish ensembles inspired by Oriental imagery. A lively garden scene by Berthe Morisot, "The Basket Chair" (1882), sets the tone for the dresses inspired by botanical motifs. And two beautful brides cast haunting reflections in the 18th-century mirrors as a reminder of the connection between the past and the present.
Organized by the Museum of Fine Arts, Houston, with the collaboration of Oscar de la Renta, LLC, "The Glamour and Romance of Oscar de la Renta" is curated by André Leon Talley, contributing editor and former editor-at-large at Vogue magazine and a lifelong friend of the designer, in collaboration with Cindi Strauss, Sara and Bill Morgan Curator of Decorative Arts, Craft and Design at the MFAH, and with assistance by fashion historians Molly Sorkin and Jennifer Park.
The exhibition will remain on view through Jan. 28.
MFAH is located at 1001 Bisonnett in Houston. For more information, visit www.mfah.org.
Story Elena Ivanova, ISSUE contributor
This slideshow requires JavaScript.