Hoerth gives new life to 'retired' books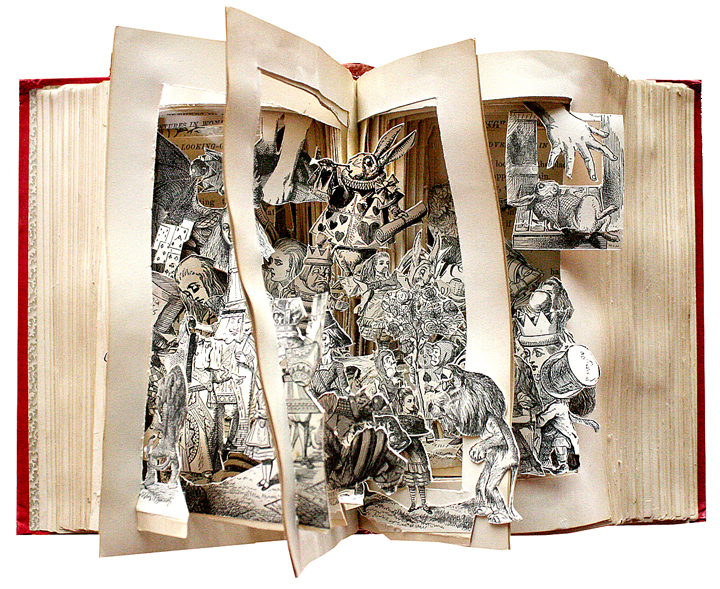 The table is littered with tiny slivers of paper. Despite the buzz of activity surrounding her, artist Susan Hoerth smiles as she buries herself in a book.
Hoerth is not reading, however. She is attacking the pages with scissors and blade. But this is no act of desecration. She is carefully dissecting the battered book and re-assembling it to create an intriguing and beautiful piece of art.
Hoerth demonstrated her "repurposing" technique at the Stark Museum of Art's family event, Oct. 19.
The assemblages are fascinating to see and one is drawn to the pages and images. In one piece, birds fly from the pages, seemingly captured in mid-flight. In another, Alice and the inhabitants of Wonderland perform their chaotic shenanigans, bursting out from deep inside the open book.
Hoerth has been altering books since 2008, she said in an email interview from her home in McAllen.
"I got my first book to cut at the Salvation Army and fell in love with the old papers and illustrations," she said. "I had seen books altered by other artists and wanted to try altering myself. I wanted my books to act a nook for the illustrations."
Hoerth chooses to work primarily with books that date from 1923 or before.
"There are two reasons, the first being copyright laws," she said. "Second, older books have a different feel, especially pre-1900 — the paper is so thick and fragile.
"I have done altered art for some time and have collected objects that are old and had value at one time. I felt I could apply this to old books as well. I never use first editions, and I prefer the books that are worn past use — I like to repurpose them into useful pieces of art."
Like many artists who work with found objects, it is the chance to explore the object's history that appeals.
"Old books tell a story in several ways," Hoerth said. "The story that was intended and the one of the past owners. I often find old fingerprints, colorings, small markings along with messages in the pages that have been left with the story.
"The paper has a unique feel and smell. My studio smells like an old library. The illustrations are lovely in old books, they are mostly black and white, and the colored illustrations have a quality of the Victorian era."
Hoerth said that she doesn't consider new books to be lacking.
"I never really thought about which is better," she said. "Newer books are still purposeful — the books I cut are books that are retired, the story isn't, but the book is.
"I look at it as if I am giving them just a little more life and awareness. Some books will always be read, some (will be) antique treasures, and some will now be altered pieces of art."
Each creation takes around two weeks from start to finish, Hoerth said.
When she finds a book to work on, it is important that she read the book before she starts cutting.
"When the treasure is found, I like to read it to make sure I take account of all the details within it," she said. "I want to set the scene visually to try to match what the book was about to me personally."
While she takes commissions to work on certain stories, Hoerth prefers to find the books herself, rather than work from supplied texts.
"I like to hunt for the books as well as cut them, so I do prefer to find them myself, but I have done commission books and will adhere to requests," she said. "I do like to make sure the book is discarded and pre-1923. Most people understand this when they request a book."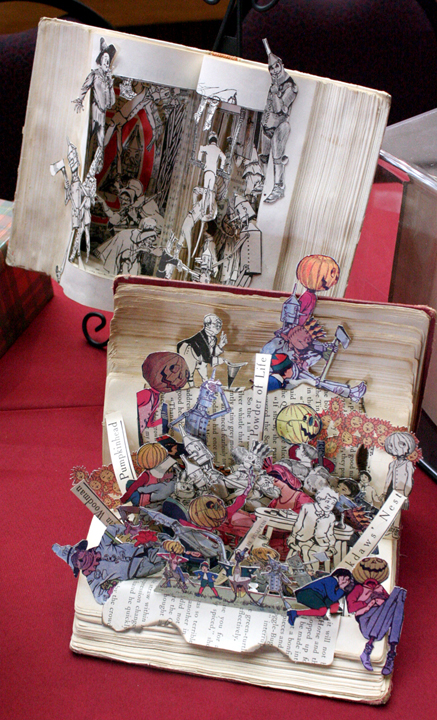 Hoerth said she is drawn to books that are weathered or beaten up.
"I find great pleasure in finding something that is ready for the landfill, rescued, redone and admired," she said. "It is like recreating a life. I think I have been reassembling old junk into new interesting objects most of my life."
Every image comes from the book itself, with no outside images.
"I use what is in the book, cut and reassemble," she said. "Sometimes I have called it an autopsy, sometimes altered books, but they are all altered and not added."
After reading and carefully selecting the book, Hoerth uses a variety of materials in the construction of the piece.
"I use liquid plastic adhesive book glue to repair bindings," she said. "I use an archival spray for the pages as I work with them, and I use clear tape on the back of the illustrations to make sure they do not rip or tear."
Hoerth said it is important that the pieces are displayed.
"At home my books are under glass cases, or hung on the walls with plate hangers — it requires a lot of dusting."
The pieces usually range between $200 and $500, depending on the book.
Hoerth's work is available for viewing on her blog at http://abandonattic.blogspot.com. She also has an Etsy page at raidersofthelostart.
To purchase or commission a book, call 956-878-3407, or email sdhoerth@gmail.com.
Andy Coughlan
UP Editor