Stark's 'Wicked Plants' not the average exhibit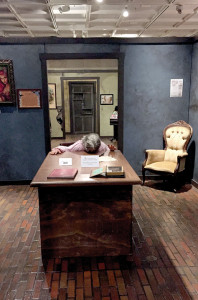 Entering the latest exhibition at the Stark Museum of Art is like stepping out of the 21st century and into a Victorian curiosity cabinet.
Plants such as mandrake, nightshade and hemlock are familiar to fans of Harry Potter, or murder mysteries — "nightshade" is mostly preceded by "deadly" — but instead
of being a part of a story, these and other "Wicked Plants" are their own story which is informative and fascinating, but also, most importantly, a lot of fun.
The traveling exhibit is based on Amy Stewart's book "Wicked Plants: The Weed That Killed Lincoln's Mother and other Botanical Atrocities." Visitors enter a series of dingy and forbidding rooms lined with curios and examples of these nasty plants with examples of their detrimonious effects.
This show demands some time. There are clues for solving a murder, as well as copious tidbits that are scary, amusing and downright odd. It is part art exhibit, part science lab and part theatrical experience.
As a confirmed city boy, I have long been of the opinion that nature's entire job is to kill you. This show seems hell bent on confirming that hypothesis.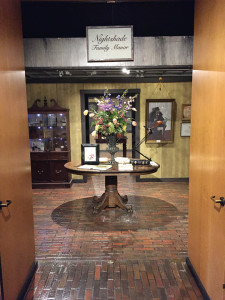 The "paintings" on the wall represent the various members of the Nightshade family. The images are cleverly manipulated pieces that refer to well-known works, but with slightly twisted and deformed features.
How did Bella die? Well, the clues are there — as well as poor Bella's corpse — so it is the perfect time to break out the Holmesian deerstalker and solve the crime.
Of course, not all the plants are deadly, but a great many of them are toxic to some degree or another, even if it just a simple itch for the allergic.
The dining room is decked out for a full meal, but one might be careful exactly what one eats. It is a surprise to learn that mangos can cause and itchy rash similar to poison ivy. And who have thought that tomatoes are part of the nightshade family, and that for many years were dubbed "poisoned apples."
And the bathroom — well, that's just plain disgusting with its foul smelling greenery and mold.
In the far hallway, visitors get to see some weapons, including blow darts tipped with plant poison, and a particularly nasty looking instrument called a caltrop, inspired by the aptly named Puncture Vine. It is designed to be stepped on by unsuspecting animals or barefoot humans, and the tips of the spikes were often tipped with poison.
The exhibition is highly interactive, and some might find that various buttons and levers confusing, but the old-fashioned contraptions fit the aesthetic, so it is a minor complaint (and probably speaks more to the laziness inherent in a world where one expects to simply swipe a thumb for instant informational gratification).
Accompanying the main show is "Poisonous Pages: Rare Books from the Collections of the Stark Museum of Art." The museum has a large archive of botanical resources and it is a fascinating complement to the show. The museum's foyer is also decorated with actual invasive plants supplied by Shangri La Botanical Gardens.
"Wicked Plants" is not the typical art exhibit, but it is well worth taking the -time. You'll never be comfortable in nature again.
"Wicked Plants: The Exhibit" is on display through Jan. 4.
The Stark Museum is located at 712 Green Ave. in Orange.
For more information, visit starkculturalvenues.org/ starkmuseum.
By Andy Coughlan
ISSUE editor