Artist to exhibit work in September with Lydick, Dubuisson
Elena Sandovici is a detective. She is not your typical trenchcoated gumshoe, cigarette dangling from the lip with a gun in the pocket.
She uses paints and a passport to discover the secrets of Barcelona.
The Lamar University political science professor will reveal the mystery of her favorite city when she joins with area artists Summer Lydick and Danny Dubuisson for a show at the Beaumont Art League, opening Sept. 7.
Sandovici's part of the show will feature a series of paintings of Barcelona, as well as watercolors from her summer excursion in Europe.
Sandovici's last show was when she was in graduate school in Binghamton, New York.
She said people are surprised when she says she is nervous about the opening of the show. After all, they say, she has no problem standing before a large group of students and lecturing.
"This is a very different kind of social situation," she said. "I find myself focusing on that and I am forgetting that the thing I should be nervous about is putting your work out there and having people really look at it.
"I'm excited about showing the work. I like the paintings that are in this show a lot. I like them better than anything I've made so far. So I guess I am more excited than nervous."
She said the reason she has so many paintings about Barcelona is simple — it is her favorite place to visit.
"I've been obsessed with Barcelona since I was 19, the first time I got to go there," she said. "I wanted to stay there but I couldn't. I had to finish college, do something with myself, figure out my life, find a way to make money, all that stuff. I promised myself I would eventually go back and live there.
"It took me about 12 years to get my act together and I stayed there for about a year, but I still couldn't stay. So the obsession just deepened."
When Sandovici lived in the city she said she would read mystery novels set there. Then she would explore the town and try to find the places mentioned.
"I was always on a mission, I was like a detective," she said. "I would take walks and try to find the places."
By constantly revisiting the images in her paintings — several feature the same hill top view of the city with Antonio Gaudi's Sagrada Família dominating the landscape, rendered in different styles — Sandovici is still on her quest to find the essence of the city.
The imagery of her landscapes is obvious on one level, but they are slightly abstracted and twisted giving each painting its own personality, and, by extension, revealing a different feeling of the city.
"I think they speak differently to people who have been there and people who have not been there," she said. "I think they are cool and fun regardless of whether someone has been there or not. I am playing with colors and textures, and that is fun in itself.
"But maybe I am hoping that people who have been there will feel some kind of nostalgia for it. People who haven't been there might be thinking, 'This is cool and I have got to get myself there some day.'"
Sandovici spent two months touring Europe over the summer and focused on producing a series of watercolors as a sort of diary of the trip.
"Doing the Barcelona pictures over and over again prepared me for that," she said. "I was not scared to do it."
Her section of the show is "Departe de."
"It can mean different things," she said. "It is Romanian and it means 'far away from.' But if you look at it and think of it as Spanish, it means 'it leaves from.' If you fragment it more it can be 'De parte de,' which means 'from' as if you are addressing a postcard or a gift. I always like the idea of fragments as postmodern things, and I thought of things you could fragment — so that's how I came up with it."
Sandovici may be far away from Barcelona, but the artwork in the show is a gift "from" her travels, so visit the gallery — no passport needed.
Story by Andy Coughlan – ISSUE Editor
Issue Magazine: September 2013
---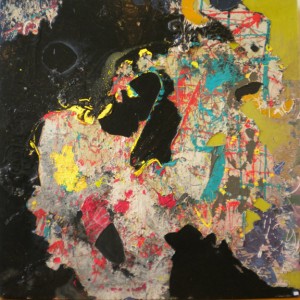 SUMMER LYDICK: NEW IDEAS.
Beaumont artist Lydick received her master's degree in Painting at Lamar University in 2005 and started her interior decorative finishing company the same year, and has been "changing the world, one room at a time." "Since my early days as an undergraduate, I have been fascinated by recreating complex textures with paint. I draw inspiration from man-made objects that have been reclaimed by nature
— rusted sheet metal, crumbling concrete walls, torn and shredded billboards."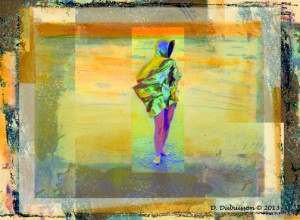 Danny Dubuisson: Dream Space
A presentation of mixed media artwork, which is an artistic investigation of the individualism of the dreamscape, the dream state. The "Dream Space" appears in the mind's eye as a daydream, as a vision in the mind during sleeping hours, as well as the artist's own pre-visualization of his artistic endeavor.