Ceramicist Blanton to exhibit recent work at AMSET in December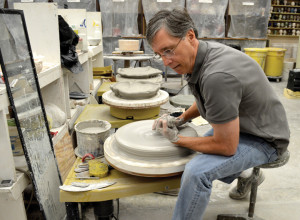 Linnis Blanton throws clay in his workshop every day. When he is at Lamar University, he is at the wheel teaching ceramics to students and when class lets out, he continues working with the clay, constructing platters, vases and free-form sculptures to build a large body of work.
On Dec. 12, through Feb. 28, the Art Museum of Southeast Texas will feature the artist at the museum for the first time in the exhibition "Journey From Within: Ceramics by Linnis Blanton." The show will focus on works produced over the past couple of years, of a career which has expanded more than four decades in Southeast Texas.
"I keep working because it is my goal in life to get better," Blanton said. "If I get better every year of my life, I'm going to be able to knock 'em dead when I'm 90."
The show will feature a dozen or so platters that are hung on the wall like two-dimensional works, and vertical sculptures which wind and curve with organic and corporeal forms.
"With platters, I'm working on a round canvas and I'm not sculpting a lot; creating but not really sculpting — the art resembles more like a flat canvas," Blanton said. "With vertical pieces, it is completely 3D— it has to work all the way around the piece. With the platters, there is a back to the work, because they are only meant to be seen from the front. The vertical pieces have no back— if they do, then I am disappointed with the result. I don't want one spot to be less than the rest — it has to work visually all the way around."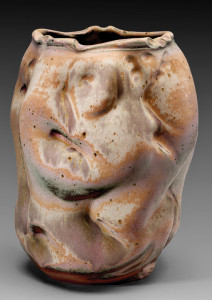 Blanton produces his works in series resulting in common themes but also a natural progression, as previous pieces serve to test new concepts.
"I like to work in a series," he said. "What I am doing here can influence this and this one can influence this one, and they all keep going and continue to get better."
What is important, when sculpting, is paying attention to one's thoughts, Blanton said.
"What I find really important is to listen to all your silly, little thoughts, because they are so powerful in creating one's reality," he said. "As part of my work, it is subconscious that I keep working until every contour edge works and then the final result is magic. Some of my silliest thoughts have become my best works.
"As I'm working, I start seeing things. I start seeing the female figure and I go, 'Ooh— I really want to bring that out.' I don't force myself to bring anything out the clay, I have to see it first."
Blanton said the female body is a big motivation.
"Seeing curves and thinking, 'Wow, what a beautiful curve,'" he said. "I like transitions from a bump to a smooth area in female figures, such as the transition from the breast to the ribcage, from the underarm to the breast — that is a really beautiful curve."
The ceramicist's works aim to tap into the universal — that common thread which ties humanity together. His medium provide a limitless outlet of inspiration, as well as the inspiration he gets from working with students at Lamar University.
"Just working with the clay gives me ideas," he said. "It is the sensuousness of the clay that inspires me. It is an activity that has the same temperament as putting a puzzle together, deciding what colors or pieces go together — which is fun for me."
Working with clay allows Blanton to capture his thoughts the moment in which they occur, he said. His pieces are products not only of decades of practice throwing clay, but also mindful works that urge the viewer to contemplate on the present.
"I like the quietness of my pieces," he said. "They don't jump out at you, but they are strong and that's the meditative aspect of them.
"Meditation brings you to the present moment — which is exactly what I aim for when creating my pieces."
The opening reception for "Journey From Within" is Dec. 18 at 6 p.m.
The Art Museum of Southeast Texas is located at 500 Main in downtown Beaumont.
For more information, check out www.amset.org.
BY Caitlin Duerler
ISSUE Contributor