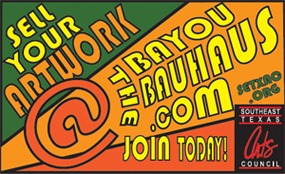 The Southeast Texas Arts Council announces the grand opening of Bayou Bauhaus, an online gallery for promoting and selling your original art.
The online shop represents the very best of art and craft in Southeast Texas. All products are jury reviewed by experts in the region.
Whether you're interested in buying, selling, or just seeing what SE Texas artists are producing, visit their site at thebayoubauhaus.com where you can find out how the site works and how YOU can register.