TASI November show invites interpretations of compositions
The Art Studio, Inc. is encouraging artists to create works for "Sound/InSight," an open invitational show inspired by a pair of original compositions by Lamar University music majors.
The show will open Nov. 4 with a reception 7 p.m. to 10 p.m., and run through Nov. 24.
Submissions will be accepted in person noon to 5 p.m., Oct. 31-Nov. 2 at The Art Studio, 720 Franklin in downtown Beaumont.
"The idea is for artists of any medium to listen to the pieces of music and create a work that is directly inspired by the music," Andy Coughlan, exhibition curator, said. "The show is open to everyone, but they can only submit one piece.
"It will be fascinating to see the diversity of interpretations of the work,"
Coughlan said the show is a collaboration with the Lamar University music department's composing instructor Nick Rissman, who organized the students submissions.
"I will reveal the names of the two student composers later," Coughlan said. "I don't want to put anything put there that will suggest how the work will look — I hope everyone's imagination can fly unfettered by preconceptions."
Here is the first composition
Here is the second composition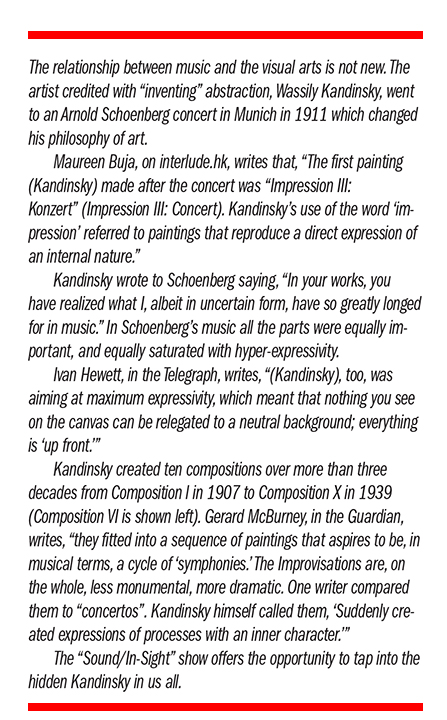 While all types of work, from painting to photography, from wood to clay, will be accepted, Coughlan said he expects a large number of participants, so be mindful of size. Paintings and other 2-dimensional works should not exceed 36 inches, and 3D works should not exceed 48 inches in height and 50 pounds in weight.
"I may have to reject the wall-size mural you drag down to The Studio, but that is the only way a work will be rejected," he said. "You bring, I'll hang it — guaranteed."
Coughlan said that although the show is not until November, he wants to give ample time for people to really absorb the music for their creations.
"Of course, I know a lot of artists — me included — may be rushing to finish right before deadline, but I want to make sure everyone has the chance to join in."
The gallery will be separated according to the piece chosen.
"It will be fascinating to see the wide variety of interpretations side by side," Coughlan said.
For more information, email andycoughlan@hotmail.com.