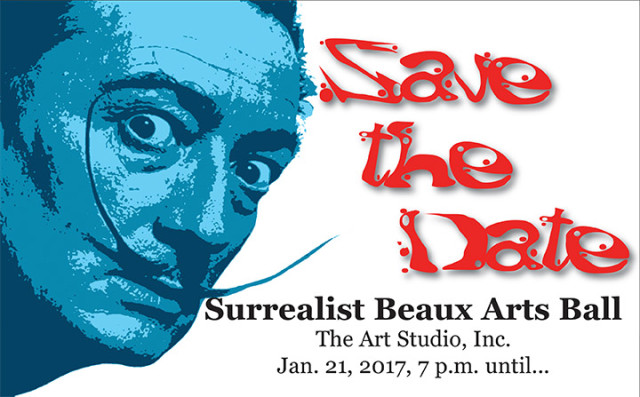 The Art Studio, Inc. will host the Surrealist Beaux Arts Ball, a live art exhibition/fundraiser, Jan. 21, to support its art education programs, encourage membership and celebrate the year's accomplishments of tenants and local artists.
"There are going to be many exciting things going on," Olivia Busceme, event organizer, said. "The event, with all who attend in costume, is going to be a live exhibition in itself. There is going to be music, dancing, performance art, fashion and drag shows. It's going to be one of the best art events of the year — there will be nothing else like it."
A Beaux Arts Ball has been a part of The Studio's history many times over the years, founder Greg Busceme said, with the most recent held in 2012.
"The Beaux Arts Ball is an opportunity to sustain our art education programs and to celebrate the art community's accomplishments, and have fun while raising money for a great community institution," he said. "There are some times we've held it consecutive years, and sometimes we take a year or two break to build up anticipation again."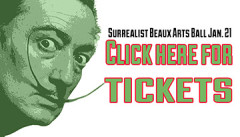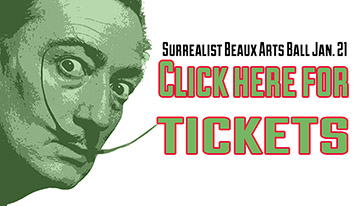 Greg Busceme said the concept comes from the the annual costume ball traditionally given by the students of the École nationale supérieure des Beaux-Arts in Paris in the spring.
The ball was held in the palatial École building on the rue Bonaparte overlooking the Seine. Students produced elaborately allegorical-themed floats which circled the room at midnight and were judged by a panel of the school's instructors, local bon vivants and artists. Apparently, winning this version of human dressage was an honor in itself, according to publications at the time.
"We're very excited about hosting this ball," John Roberts, event committee member, said. "It's time for one, and we have some great ideas with the drag show and a big avant-garde fashion show with works from several artists and designers."
The event is going to be an artistic spectacle, Olivia Busceme said.
"There are going to be special guest performance art pieces from some very well-known local artistic groups and individuals," she said. "Those we're keeping kind of a secret, because we want people to be excited and surprised when they see what they've created — and also because some are collaborations between different people and groups."
Roberts said there will also be live T-shirt printing, photograms by The Studio's Darkroom Friends and a silent auction.
"Everyone should be creative and come out," Roberts said. "We are going to transform the entire appearance of The Studio. The Studio knows how to throw a fun party and there are several things for people to do once they get here."
Olivia Busceme people should "like" the Facebook event page.
"We are going to be posting inspirational things to help people plan their costumes," she said.
In addition to all the activities, music and shows, there will be a cash bar, heavy Hors d'oevres and sweets.
Tickets are $50 through Jan. 20, and are $60 at the door. Online purchases may be made by clicking here. Click the tickets link to purchase with a credit or debit card. Tickets are also available, 1-5 p.m., Tuesdays through Saturdays, at The Studio. Tickets will also be available at First Thursday at The Mildred, Dec. 1.
For more information, call 838-5393 or visit www.artstudio.org. Or visit the event Facebook page.
Story by Stephan Malick.