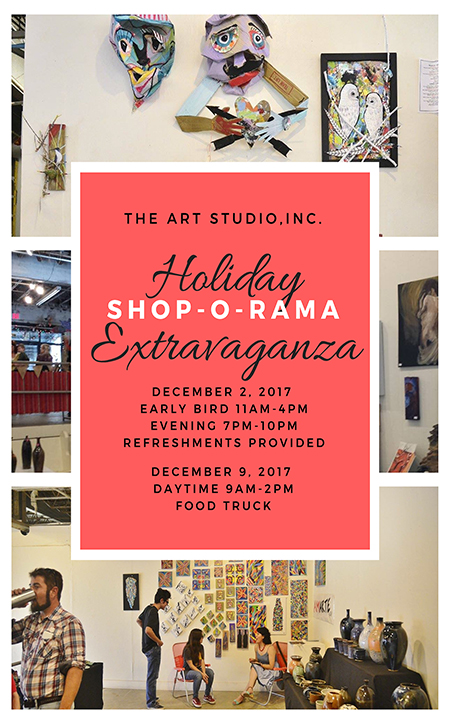 The shop local movement comes to The Art Studio, Inc. in December with the Holiday Shop-O-Rama Extravaganza, a sale of hand-made, Southeast Texas-produced, reasonably-priced items suitable for gifts.
The early bird sale is 11 a.m. to 4 p.m. Dec. 2, and the event continues with a reception 7-10 p.m. with many of the artists in attendance. The sale continues Dec. 9, 9 a.m. to 2 p.m.
The Shop-O-Rama traditionally offers smaller versions of the great art produced by tenants and members of The Art Studio year-round.
"Coming to this event is putting that foot forward to support the local art community that is blossoming in Southeast Texas, but also at The Art Studio," organizer Latasha Hagan said. "Not only is it supporting local artists, but you get a chance to pick out some awesome gifts for people. A lot of people are already excited for this event, and we at The Studio are as well."
An eclectic group of artists will ply their wares during the show, including ceramics, paintings, drawings and prints, decorative boxes, photographs, woodcarvings, dolls, jewelry, crafts and other knick-knacks. Many of the items will be available for as little as $10-$20, but there will be a selection of higher priced items as well.
Fees for vendors are $25 for both Saturdays, and $15 for one Saturday. Fees are payable online or in person by Dec. 1. Vendor spaces are 10 feet by 10 feet, and tables are not provided. Vendors must set up for the full day. Vendors may handle their own sales, or turn in an inventory and TASI will handle sales for a 25 percent commission.
"This is an opportunity for local artists to showcase new and old pieces that they've worked on to sell and to support The Studio at the same time," Hagan said.
The Art Studio, Inc. is located at 720 Franklin in downtown Beaumont. Regular hours are noon-5 p.m., Tuesday-Saturday.
For more information, call 409-838-5393 or visit www.artstudio.org.