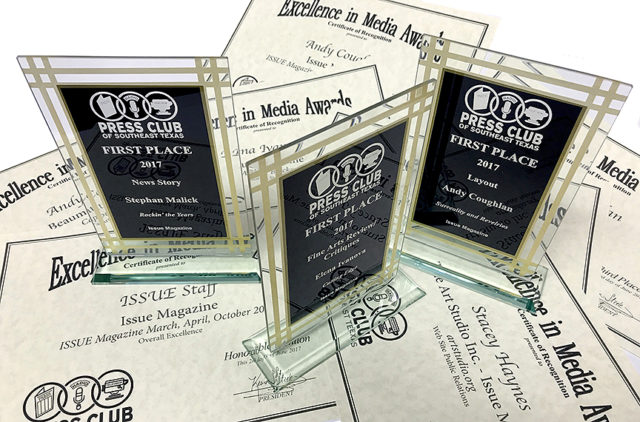 BEAUMONT — The Art Studio, Inc. was well represented at the Press Club of Southeast Texas Excellence in Media awards, held June 2 at the MCM Eleganté Hotel, earning 11 awards overall for related publications.
Contributors to ISSUE, The Studio's monthly arts magazine, as well as TASI's website, won 11 awards, including four first places.
Jefferson County Sheriff Zena Stephens was named Newsmaker of the Year.
Elena Ivanova led the way with two first-place awards, winning Best Magazine Story for "The Mystery of the Little 14-Year-Old Dancer," and Best Fine Arts Review for "Cutting Edge." Ivanova also earned third place in the Magazine News Story category for "Artists' Blocks."
Stephan Malick earned first place in Magazine News Story category for "Rockin' the Years," about the history of TASI's Band Nite.
"We have an entirely volunteer staff who work very hard to produce quality work," Andy Coughlan, ISSUE editor, said. "I am constantly amazed at the dedication that these people have to promote not just The Studio, but all the arts in Southeast Texas and beyond."
Coughlan earned first place for Magazine Layout for his work on TASI's Surrealist Ball story. He also placed third in Magazine Feature Story for "Buggin' Out," and third in the Magazine Photography category for his picture that accompanied a story about Dishman Art Gallery director Dennis Kiel, which earned Lauren Van Gerven honorable mention in the Personality Profile category "Life Through A Lens."
Staffer Caitlin Duerler earned second and third place in the Fine Arts Review category for "Destructive Beauty" and "Making A Statement" respectively
ISSUE earned an honorable mention for Magazine Overall Excellence, and Stacy Haynes and Coughlan earned honorable mention for TASI's website. Coughlan also placed first in the Independent Blog category for his arts-related writings on "English With A Bit of Texas," and earned three awards for editorial cartooning and column writing.
"ISSUE strives to cover the all facets of the arts and I think the awards reflect that goal," Coughlan said. "We are always looking for contributors, so anyone who has a burning desire to cover art, theater, music or anything creatively inclined, please contact us. And we accept poetry for the Thoughtcrime section."
Stephens, the first black female sheriff in Texas and the second in the country, bested nominees Jim Gilligan, Lamar University baseball coach, who retired as the 13th all-time winningest college baseball coach; Lonnie Howard, president of the Lamar Institute of Technology; Inika McPherson, Olympian and 2013, 2014 US Indoor high jump champion; and Dr. Garrett Peel, Jefferson County Republican Party chair.
The Excellence in Media awards are presented for work produced in 2016.
The Press Club draws its membership from Jefferson, Orange, Hardin, Liberty, Chambers, Jasper, Tyler, Polk and Newton counties. Press Club members are professionals in media, public relations, academia, public affairs, and corporate communication and public information.
The ISSUE is distributed at 40 locations around Southeast Texas, and is also available to view as a pdf or individual stories at www.artstudio.org.
To contact or advertise in ISSUE, email info@artstudio.org or message the ISSUE Facebook page.