Studio to celebrate 30 years, Nov. 16, 2013
Art exhibitions, poetry, theater space and original music venue, The Art Studio, Inc., has survived the weather, politics and a recession to make it to its 30th birthday.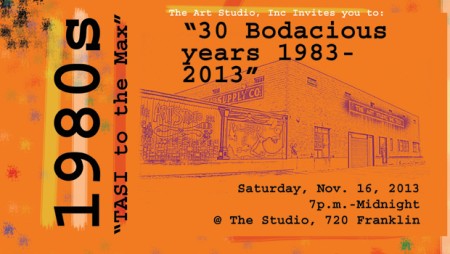 To celebrate this momentous milestone — one that no one was sure would ever be reached — The  Studio will celebrate its 30th anniversary with a 1980s-themed party, "TASI to the Max: 30 Bodacious Years," Nov. 16, 7 p.m. to midnight.

"This promises to be the social event of the year," committee member Stephan Malick said.
Guests are encouraged to dress in their favorite '80s attire, he said.
"That can be anything, from Valley Girls to punk, 'Dynasty' to 'Dallas' and anywhere in between," Malick said.
Tickets are $25 and are available at www.artstudio.org. Tickets will also be available at the door.
The event will include live music from local bands, many of whom got their start at The Studio's Band Nites. Acts scheduled to appear include Buffalo Blonde, Mad Maude and the Hatters and Killawatts.
The event will also see a reunion of a legendary local band.
"The Put Downs are reuniting for the event," Olivia Busceme, band coordinator, said. "The Put Downs are one of our old punk legends, and they played The Art Studio forever."
They haven't played shows in quite a while.
"We asked them to come together for a good ol' time like the olden days — the '90s," Busceme said.
"Art and music have always gone hand-in-hand at The Studio," Malick said. "We're excited to be able to have these folk come together and bring back some memories — as well as create a level of excitement to attract people to the event."
Space Capsule will present an audio/visual retro extravaganza, Elizabeth French, TASI assistant director, said.
"So many great musicians got their start with us, and it is great to see so many of them come to help us celebrate our anniversary," she said.
While participants are expected to have fun, the party will also serve as this year's major fundraiser. Currently, there is a lot of interest in The Studio, but they need money to keep things going.
"It has been really hard," Busceme said. "Sometimes you have to just work with what you got, but we are in an upswing."
The event will also include a silent auction, featuring art, photographs, services and more.
Food will be provided by local eateries, including Katherine & Co., Abbie's Imports, Two Magnolias and Tacos La Bamba.
"We are pleased that so many people and businesses recognize the contribution that The Studio has made to the community and are willing to help out," French said.
There will be a cash bar.
The event will also feature a surprise Re-create happening.
"I think patrons will be surprised by what they have planned," French said. "It will be some time between 7 p.m. and 10 p.m., but that's all we are saying. Attendees should just plan to be there all evening, so they don't miss a thing."
The Studio will be dressed up and ready to show off, Malick said.
"Visitors will be able to visit the tenants' spaces and see how we work," he said. "Over the years, The Studio has been a vibrant hub of arts activity, and we really want to show that off."
The event will be spread out over the entire Studio property.
"It will be a great event, rain or shine," Malick said. "We will have a giant tent in the back yard for bands and dancing. The gallery will feature the November exhibition by tenant Abigail McLaurin, and there will be plenty of room for socializing."
The Studio will have a range of special merchandise commemorating the anniversary, including T-shirts, koozies, stickers, pins and more.
Take A Look Back:
"Come party with us — it promises to be legendary," French said. "For a non-profit art community to survive for 30 years is amazing. If that isn't worth a blow-out celebration, nothing is."
For tickets and information, call 409-838-5393, visit www.artstudio.org or facebook.com/artstudio.
Jacqueline Hays
UP Contributor