Annual show highlights work of Studio members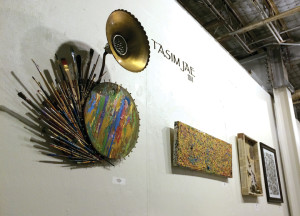 David Cargill, renowned Beaumont sculptor, has been named juror of The Art Studio, Inc. Member Jurored Art Exhibition (TASIMJAE), which opens with a free reception, 7 p.m. to 10 p.m. April 4.
Riah Lee won last year's show, jurored by Megan Young, and will be the exhibiting artist at The Studio in May.
TASIMJAE regularly draws an eclectic group of artists working in all media.
TASI director Greg Busceme said that the exhibition is a chance to showcase the work of The Studio's membership.
"We get people to show work they haven't shown before and we are also interested in getting new memberships from the constituents out there," he said.
First prize is $100 plus an exhibition of the artist's work in May 2011. Prizes are also awarded for second and third places.
Membership in The Art Studio begins at $35 for adults. Student memberships begin at $20 with valid ID.
"We really encourage folks to enter the show," Busceme said. "It's really important that artists of all kinds — be they established or up-and-coming — show their work and get feedback from the public."
Tenant Andy Coughlan said that TASIMJAE is his favorite show of the year.
"I love seeing the solo shows throughout the year, but they are normally established artists that have been chosen to exhibit," he said. "TASIMJAE offersw the chance to see the unexpected. You never know what to expect until the doors open. It is a chance for relatively unknown artists to hang side by side with established creators — and often, they are the most exciting works."
The opening reception will feature most of the exhibiting artists and offers visitors an opportunity to talk with them about their work — and to get involved with The Studio's community arts efforts.
For more information, call 409-838-5393.