Falgout, TASIMJAE 2015 winner, turns paper into artistic gold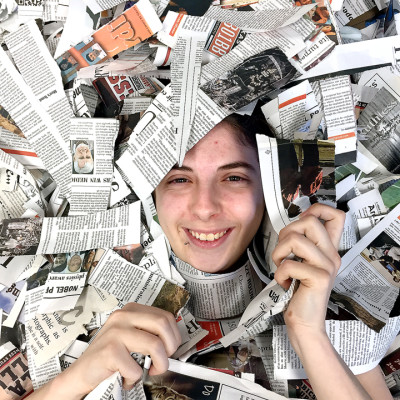 Avril Falgout sits cross-legged on her dorm room floor, a warm pot of corn starch and water by her side and a pile of torn newspaper on the floor. She picks up a strip of paper, dips it in the mixture and applies it to the leg of what will be a life-sized, 1950s woman pulling on stockings.
Avril is slight of build and as her hands reach back and forth, her head bobbing, one cannot help but think of a bird feathering her nest.
Working a couple of hours a day, one large figure can take a month to complete — "If I'm on a roll," she said.
The product of the hours of toil will be on display at The Art Studio, Inc. in May. Avril's eponymous show opens May 7 with a reception from 7 p.m. to 10 p.m. and runs through May 27. The show is the reward for winning TASIMJAE 2015, The Studio's membership show.
The 18-year old has been working in paper maché for seven years, but is at a loss to explain her obsession.
"I really don't know," she said. "I'll see something, like imagery — I'll see something in my head and I have to make it. It's partly compulsive."
Avril said she was always drawing as a child, but when she was in fifth grade she attended an art camp at Lamar State College-Port Arthur where she was taught paper maché.
"That's when I went off the deep end and did it all the time — it completely killed any social life I might have had," she said, with a laugh. "I absolutely loved it. (The teacher) taught us the basics and I just went with it, and eventually decided to make a life-sized person."
A lot of Avril's inspiration comes from history. The piece which earned her the win at TASIMJAE features a pair of 1920s flappers in mid-dance.
"I have one that is set in the 1780s," she said. "She is made for the church pew that is at The Studio and she will be bent over reading a book.
"A lot of times, I will make something just to figure out a technical part on it. The 1780s girl, I started working on her because I think I have figured out how to make lace out of paper. The dress is lace, so I am trying to figure how to do that."
The figure is the first piece that Avril has made to be relatively site specific.
"It is kind of frustrating," she said. "I can only work on her if she's sitting on a large cardboard box or something like that."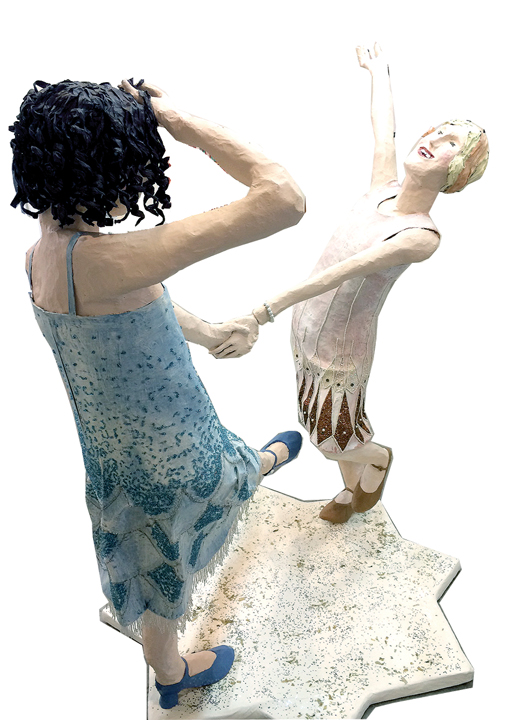 Avril recently contributed a life-sized Janis Joplin sculpture for the Museum of the Gulf Coast in Port Arthur. The idea came from a conversation with MOTGC curator/archivist Sarah Bellian about the singer.
"I don't know who first tossed it out, of me making one — it was probably me, that sounds like something I would do," she said. "It will be in the show in May, but then it will go back to the museum."
Avril's work is exclusively figurative, "I've just never been to grasp the abstract," she said, and she likes working in paper maché because it is manageable and it's cheap.
"My dad still gets the newspaper," she said, with a chuckle.
The Port Neches native is a student at the Texas Academy for Leadership in the Humanities, a two-year program at Lamar University that allows students to fulfill core college requirements while finishing high school.
She is self-taught, but said that taking classes has opened up her work.
"Originally, I just didn't know how to do two-dimensional stuff, and I had no real access to the other stuff, like metalwork and woodwork that you get at Lamar," she said. "Before coming here and being able to take art classes, painting and drawing and color theory — which has helped me immensely on the paper maché on its own, but also on two dimensional — I just didn't know what the hell I was doing. I couldn't get past that.
"I never was able teach myself two-dimensional stuff, but I could figure out three dimensional and that's why I stuck with paper maché. And I could get hold of the materials cheaply and easily. I might branch out into other stuff, but it's never as easy to make as three-dimensional.
As far as incorporating other materials, I did that originally, but, like with the lace, I want to make as much as possible out of the paper for the challenge of it."
Avril will graduate fro TALH this summer and has already been accepted into an art history degree program at the University of Edinburgh in Scotland.
"In high school, my two favorite subjects were history and art — I was a history nerd," she said. "So combining my two favorite things is just wonderland for me."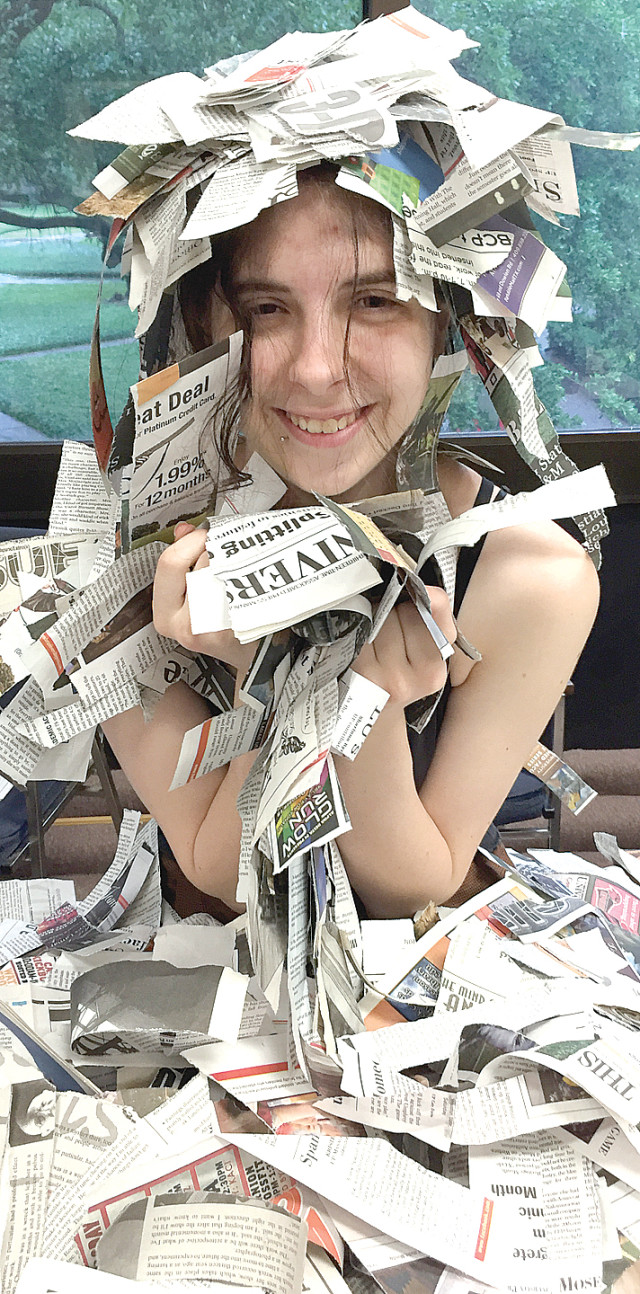 When she finishes school Avril said she would like to work in a museum, preferably in Europe.
"My mom doesn't want me to go, but I am her only child, so…," she said, with a smile.
Avril cites her love of art history as her inspiration.
"I have always been drawn toward the traditional," she said. "I have always gravitated toward more technically perfect things.
"Sometimes it comes from looking through books or images, and I'll get completely fixated on a specific period of time and I will go, 'Ugh, I have gotta make a person.' Sometimes I will plan in detail what that person is going to look like, and sometimes it will just be pages of scribbled down little miniature drawings and stuff, and sometimes I will go right into it without a plan and do it as I go."
   Avril said that she does go into a piece with a size in mind, whether small or life-sized.
   "I've never used one to work off another one," she said. "Technique-wise, if I figure out a way to do something I will apply it to another one. I never make one specifically to learn for another one."
   In her old school district, Avril said they taught some basics in middle school and some crafts, but in high school it was hard to get into an art class.
   "You weren't allowed as a freshman, so I only had one year of art classes in high school," she said. "So that made it sketchy in terms of being able to learn anything about art. The art teachers were amazing, but most of the time they had to referee marker wars throughout the classroom rather than actually being able to teach anything.
"I've dodged markers in my art class — it's not fun."
Like any art form, there are obstacles. What is the biggest challenge with paper maché? Avril slyly smiled and silently picked up a figure about two-feet tall. She plopped it on the ground where it immediately fell over.
She giggled out loud. Point made.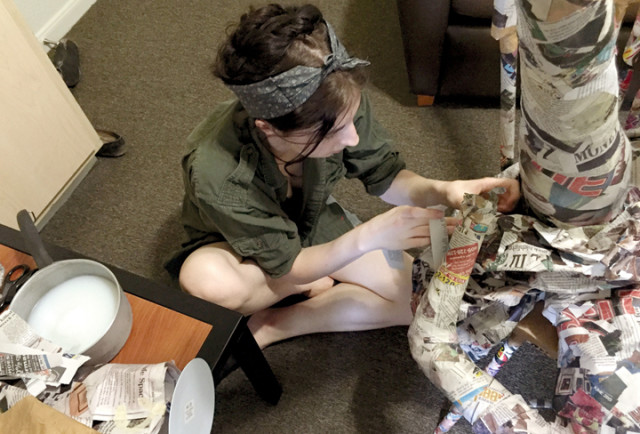 "I used an old vocabulary textbook once, which I taped to the front to counterweight it, because the piece kept falling over backward," she said. "Thankfully, my mother and I finally realized that my grandfather was a professional welder and he still has a huge metal workshop in his back yard. So we go up there once in a while, and he'll make stands for me and they stay up."
Part of the appeal of the process is the puzzle, she says. There is also the thrill of exploring the limits of the medium.
"I always think, 'Oh, I'm making this out of paper. Paper shouldn't be able to do this. I just made a person' — I am always in awe that you can do this out of paper," she said. "So I hope people see that it's possible to do something like this and it's affordable."
Avril's art may be made of inexpensive materials, but there is nothing cheap about the work.
The Art Studio is located at 720 Franklin in downtown Beaumont.
For more information, visit www.art
studio.org.