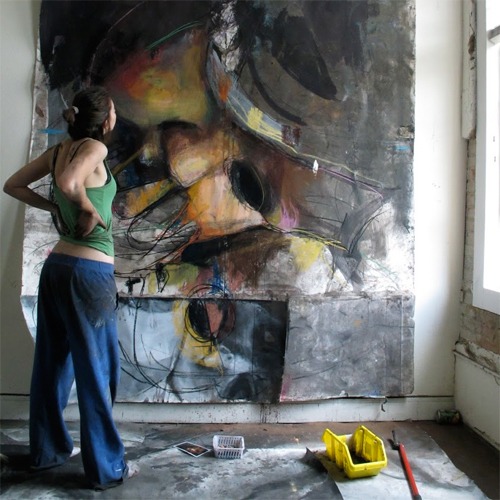 ARTIST BIO:
Abigail is a native of Charlotte, North Carolina and received her BA from Coker College in Hartsville South Carolina, where she developed her uniquely muscular and fearless painting style. Her background in stage design often leads her to large scale pieces that envelop the viewer in her unique vision.
Abigail McLaurin's figures hold the razors edge of tension in a shadowy world between the certainty of the strong black line and emergent, luminosity that makes them appear lit from within. Her canvases are gripping and visceral, pulling us into the darkness, to world of half-resolved, forms, the paint worked with deliberate violence.
When she turns to portraiture, her uncommonly skilled and uncompromising eye strips away the mask of civility to produce works of rare emotional power. McLaurin's images can be challenging, even jarring, bearing the insistence that we see that which is difficult, disturbing, even horrific with clear vision and find with a start, that it is simultaneously beautiful.
-Wes Chester
Curator Martha Pace Swift Gallery, San Diego, CA
ARTIST STATEMENT:
My content is formed during the process of drawing, where the subconscious can resonate significance beyond what is present or can be initially observed. I'm fascinated by the otherness of the figure, the being behind what is presented as I try to decipher my attraction to people and things that are ignored, rejected, jarring and odd.
---
PERSONAL WEBSITE:
Inside My Mess
---
CURRICULUM VITAE:
Education-
2009 Scenic Art Internship,
Casa Manana, Fort Worth, TX
2009 B.A., Fine Arts, Coker College, Hartsville, SC
Honors & Awards-
2010, 11 &12 'Artist of the Month,' Starbucks at Montgomery Plaza, Fort Worth, TX
2010 Published in Manifest Catalog volume 44
2010 Scenic Artist, "The Best Little Whoehouse in Texas," Casa Manana Theatre
2010 Scenic Artist, " Snow White and The Seven Dwarfs," Casa Manana Theatre
2010 Scenic Artist, "Sound of Music," Casa Manan Theatre
2009 Scenic Artist, "Santa Claus is Coming to Town," Casa Manana Theatre
2009 Scenic Artist and Co-designer, "Sweeney Todd," Casa Manana Theatre
2009 Scenic Designer and Painter, "Five Guys Named Moe," Casa Manana Theatre
2009 Scenic Designer and Painter, "The Jungle Book," Casa Manana Theatre
2009 Scenic Artist, "Patsy Cline," Casa Manana Theatre
2009 Scenic Artist, "Dear Edwina Junior," Casa Manana Theatre
2009 Recipient, Art Department Academic Achievement Award, Coker College
2009 Finalist, Fulbright Scholarship, U.S Department of State
2007-09 Art Department Mentor, Coker College
2006- 09 Recipient, Art Department Grant, Coker College, Hartsville, SC
2007 First Award, Annual Student Art Competition, Coker College, Hartsville, SC
2005 Published in The Charlotte Observer, Charlotte, NC
2005 Silver Recipient, The National Scholastic Art and Writing Competition
2005 Gold Recipient, North Carolina Regional Scholastic Art and Writing Competition
Group Shows
(2012) "Tenant Show", Art Studios, Beaumont, TX
2012 "Regional", Bikram Studio, Fort Worth, TX
2011 "New Texas Talent", Craighead Green Gallery, Dallas, TX
2010 "Rites of Passage", Manifest Gallery, Cincinnati, OH
2008 "Student Summer Show", Coker College, Hartsville, SC
2008 "Statewide," Columbia Art Museum, Columbia, SC
2007 "Student Summer Show", Coker College, Hartsville, SC
2007 "Statewide," Florence Art Museum Florence, SC
2006 "Student Summer Show", Coker College, Hartsville, SC
2006 "Statewide," Florence Art Museum, Florence, SC
Solo Exhibitions
(2013) "Recent Works", Coker College, Hartsville SC
2009 "Slightly less than Life Size", Midnight Rooster, Hartsville SC
2009 "Slightly less than Life Size", Coker College, Hartsville SC