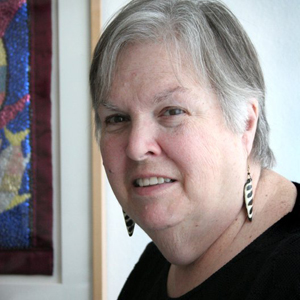 ARTIST BIO:
Laurette has lived in Southeast Texas since 1977. She holds degrees in Art from Western Michigan University and Lamar University.
She lived briefly in Japan and traveled to the Philippines before moving to Beaumont, Texas. In recent years, Laurette traveled to El Salvador and Guatemala, all the time focusing on understanding the art and culture of each location.
One of the original tenants, Laurette has been a studio tenant for the past 30 years.
ARTIST STATEMENT:
For many years, my work has been about landscape and our relationship to it. Landscape, for me is based off the human form. In recent years these landscapes have moved from figural references to cloud forms with landscape references. Clouds soon became their own reason to be. The clouds and land forms became more abstracted.
Some of this change is due to a change in materials. My early work was of stoneware and porcelain clays. This was followed by welded and cast metals, aluminum, bronze and iron. With the cast metal I used the "Lost Foam" technique. Later cast images were of more than one metal cast together.
Often the use of different materials causes a change in imagery. My images became not the Niches bearing clouds in a landscape but became architectural references containing cloud-like symbols.
After years of working with heavy molds, metals and equipment, I learned the beauty of rigidized foam. Many of these images will soon join this page.
---
This slideshow requires JavaScript.
---
EXHIBITIONS:
2013 NOW & THEN: Lamar University Clay
Beaumont Art League, Beaumont, Texas
CERAMIC INVITATIONAL
Art Studio, Inc., Beaumont, Texas
2005 THEN AND NOW: An Alumni Survey
Dishman Art Museum, Beaumont TX
2001 GLADYS CITY CENTENNIAL EXHIBITION
Dishman Gallery, Beaumont TX
1999 PRIMARILY METAL, TOO
Beaumont Art League, Beaumont TX
1999 PRIMARILY METAL
Goldsberry Gallery, Houston TX
1998 FROM LANDSCAPE TO MONUMENT
The Art Studio, Inc. Beaumont TX
1997 LOOKING FORWARD… GLANCING BACK
Muse Gallery, Philadelphia PA
1996 EXTERIORS: RECENT WORKS
The Art Studio, Inc., Beaumont TX
1992 LETTERS FROM PLANET EARTH
Artables Gallery, Houston TX
1991 LETTERS FROM PLANET EARTH
Dishman Gallery, Beaumont TX
1989 SCULPTURE IN TEXAS
LongView Art Museum, Longview Texas
1988 PORT ARTHUR BIENIEL EXHIBITION
Port Arthur Public Library, Port Arthur Texas