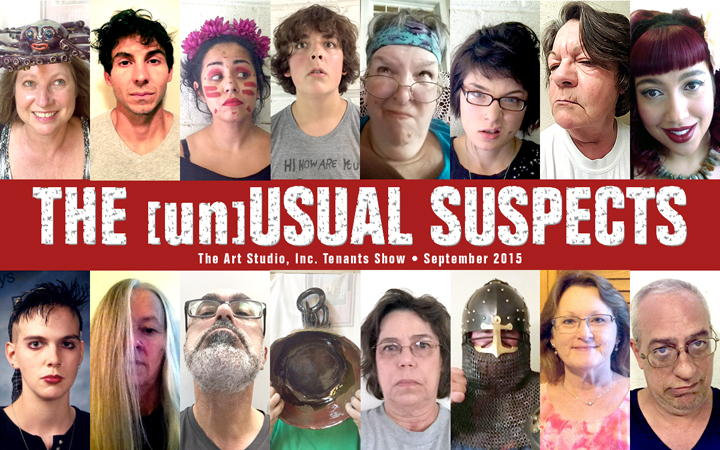 BEAUMONT —In the boiling heat of a Southeast Texas summer, a gaggle of unruly artistic types are hatching a plan — no, they are not planning on breaking into a bank and making off with millions, although most of them fit the "starving artist" stereotype — they are planning to launch the new arts season.
"The (un)Usual Suspects," The Art Studio's annual Tenants Show, will begin Sept. 6, with a reception 7 p.m. to 10 p.m.
The tenants cover all media, including painting, ceramics, sculpture, photography and more, and the show offers a glimpse into the processes of the artists who call The Studio home.
"We really enjoy being able to show people the mechanics of the creative process," Greg Busceme, TASI director, said. "The Tenants Show gives us a chance to start the new exhibition season by showing how we make art."
Artists represented include Barbara Allamon, Dana Dorman, Karen Dumesnil, Cynthia Grimes, Rhonda Rodman, Sandra Laurette, Suzanne Garrett, Rhonda McNally, Sue Wright, Andy Coughlan, David Granitz, Kailee Viator, Elizabeth Fontenot, Gina Garcia, Nathan Jones, Beau Dumesnil, Stephen Scales, Maurice Abelman, Alex Murphy, Greg Busceme, Lisa Baumer, John Alexander, Stephen Derrick, Yolanda Perez, and Darkroom Friends, G. Sellers, W. Stark, J. Winston, J. Fulbright
The Studio hosts nine exhibitions each season, which runs from September to June, as well as hosting work spaces for more than 20 artists. The facility also holds classes, Band Nites, theatrical performances, fashions shows and multiple other events involving clocal organizations.
"In the more than 30 years that The Studio has been in existence, it has grown to be an important and vital artistic hub for the whole Southeast Texas community," Andy Coughlan, TASI tenant, said. "The tenants show is a chance to showcase the work of the artists who form the foundation of the organization."
During the opening reception, visitors will be able to tour the facility and many of the artists will be on hand to talk about their work.
"It's always a great way to kick off the new arts year — if we can't celebrate the creative process, then what can we celebrate," Busceme said.
The Art Studio, Inc. is located at 720 Franklin in downtown Beaumont. Hours are Tuesday-Saturday, noon to 5 p.m.
For more information, visit www.artstudio.org, or like the Facebook page.