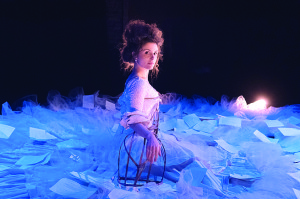 Acclaimed as "strikingly beautiful" by the New York Times, "The Other Mozart," a one-woman show telling the little-known story of Mozart's talented sister, travels from New York City to the Beaumont stage for a limited run the first two weekends in June.
The exciting new play features Sara Florence Fellini as Nannerl Mozart, a virtuoso performer and composer in her own time whose contributions were long forgotten. "The Other Mozart" by Sylvia Milo, who originated the role, uses stories and lines from family letters to tell Nannerl's charming and sometimes heartbreaking story.
Ad Hoc Beaumont, an independent Southeast Texas theater group committed to producing fresh, new theatrical works, is producing the show in collaboration with Beaumont Community Players.
The intimate, 75-minute show takes place atop an opulent 18-foot dress designed for the production. The Drama Desk-nominated sound design features music composers of Nannerl's time, including her famous brother and Marianna Martines, a female composer who inspired her, as well as original works by Nathan Davis and Phyllis Chen of International Contemporary Ensemble using teacups, fans, bells and other household objects.
With the opulent beauty of the dress and hair design, the sweet smell of perfume, and clouds of dusting powder rising from the stage, "The Other Mozart" is a multi-sensual experience that transports the audience into a world of outsized beauty and delight -— but also of overwhelming restrictions and prejudice against women.
Performances are scheduled for 7:30 p.m. June 4-6 and June 12-13 with a matinee at 2 p.m. June 6 at Beaumont Community Players' Betty Greenberg Center for the Performing Arts, 4155 Laurel Ave. in Beaumont.
Tickets are available for $20 at beaumontcommunityplayers.com or email adhocbeaumont@gmail.com.