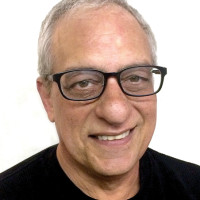 What a fantastic show it was for TASIMJAE this year. We took in 99 pieces of art, the most ever recorded.
The daunting task of culling this great number of works was bestowed on local sculptor, David Cargill, who had his work cut out for him. Thus began a three-hour jury process to pare down the show to a workable level.
He searched for meaning in each piece and if it came through he kept it.
Note: All jurors are human beings and as such are organic about their choices. I've always said when I chose a show that at a given time, that's the show — give me lunch and I may choose a totally different exhibition.
Choosing is a visceral activity combined with the library of knowledge the juror holds. Each juror has their method of selection — work that relates to a theme, work that is synergistic with each other, work based on each individual piece's own merit, work based on a certain level of expertise based on formal rules, etc.
The important thing to remember is, your work is as good as it always was. Acceptance or non
As much importance as it has to artist's sense of acceptance, it is the same work that could be accepted or even win other juried exhibitions. Participation is the key.
Of those artists accepted, 67 works were put in the show. A large show to be sure, but with so much participation, it seemed totally acceptable.
Congratulations to our winners, especially first place Avril Falgout, our youngest first place ever at 17 years old. Second place went to Marilyn Manson-Hayes and third place went to TASI tenant Beau Dumesnil. Honorable mentions were awarded to Inez Alvidres and new studio resident,  Yolanda Perez.
Thanks to Nathaniel Welch who is putting a facelift on our back porch and garden area. Along with a grill and table (already in), he has plans to plant vegetables and flowers and create a walking garden. Also in the plans is to revitalize handicap accessibility by building a gate and fixing the sidewalk to access the ramp.
A big thank you to Alex Murphy for patching our roof and stopping the flood of water down in the clay room. It's just a trickle now and soon will be fixed completely.
In other improvements we hope to get awnings over our front and back door to keep rain out of the entrances and improve our curb appeal. Since we focused on that aspect of The Studio, we have seen a increase in traffic from people just wondering what went on in here! A tour is always in order and during the tour, I hear the "Oohs" and "Aahs" and "Wows" of people seeing their first artist space. It's very exciting to me, and tells us there are so many more people who have never heard of us, and if they do, they will like it.
By our calculations there is 80 percent of the local population who have never heard of The Studio. I would hope at least half would be willing to join up and be a part of this organization. We just need to reach them.