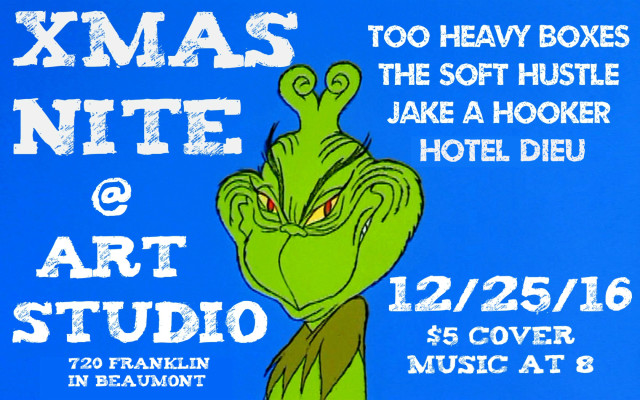 The Art Studio, Inc. will host their annual Xmas Nite concert Dec. 25, from 8 p.m. until midnight, featuring four local musical acts.
"It's a good time for hometown friends to get together while folks are in town for the holidays," Band Nite coordinator Olivia Busceme said. "Everyone seems to breathe a sigh of relief after living through the shopping excursions and family dinners of Christmastime, and perhaps even more so for people who don't celebrate the holiday or can't spend it with their families.
"So TASI invites the public to enjoy a fun, safe, relaxed show where everyone is welcome."
The admission charge is $5, which contributes to keeping the non-profit Art Studio in operation. Attendees over the age of 21 are welcome to bring their own beverages.
Live music will be provided by semi-defunct party rockers Too Heavy Boxes, the world premiere of a new local project The Soft Hustle, the farewell performance of Hotel Dieu, and solo artist Jake A. Hooker.
Hooker said Xmas Nite is fun because it's all good friends having a good time after the holiday stress. His musical influences include Roy Orbison, Queen, and The Vandals.
Hooker said of his performance, "people can expect self-deprecating train wreck of singer/songwriter tomfoolery peppered with dumb jokes."
Too Heavy Boxes are a local party rock trio that usually perform in themed costumes. Xmas Nite will mark their first performance in more than a year.
Drummer Haley Hardin said, "We take the void of nothingness and turn it into possum punk."
"This year it is especially important to rally together for common causes and friendship."
A brand new musical project, The Soft Hustle, will be taking the stage for the first time.
Frontman Jape Stiegel describes The Soft Hustle as, "A dive bar band that's surprisingly unique."
He said their music is occult and secular, and sounds like a more drunken Tom Waits.
Busceme said, "Just bundle up, chill out, and listen to some fun original music while catching up with old friends or making new ones."
For more information, visit The Art Studio, Inc. on Facebook or call 838-5393.